Swami Bhimananda in police custody
NEW DELHI: Delhi Police today invoked provisions under Maharashtra Control of Organised Crime Act (MCOCA) against self-styled Godman Swami Bhimananda, 39, who was arrested last week for allegedly running a sex racket in the city. "The police has invoked the provisions of MCOCA against Shiv Murat Dwivedi[1]," Deputy Commissioner of Police (South) H G S Dhaliwal said. "We found substantial evidence to invoke provisions of MCOCA in this case," he added.
The 39-year-old Dwivedi alias Ichchadhari Sant Swami Bhimanand Maharaj Chitrakoot Wale was arrested last week with six women, including two airhostesses, for allegedly running a a multi-crore prostitution racket from his ashram in Khanpur area of South Delhi. Police said yesterday that the accused has high-end contacts not only in India but Las Vegas in the US, also. "The baba apparently has clients and contacts not only in India but also in Las Vegas. It has been known that he was taking classes to learn English also," the DCP said yesterday.
The police also told mediapersons that the contacts of the accused were revealed from six diaries, seized at the time of his arrest. "The diaries reveal the names of 100 high-profile policemen, politicians and bureaucrats, besides prostitutes," the police said. ''He used the internet to trap girls. He always looked for girls who had hunger for money and who lived away from their homes,'' said an officer.
It was revealed that flesh trade was just one part of his vast ''business'' network. ''The prostitution racket was not his only occupation. The police have found evidence that the godman lent money at high interest rates, invested in real estate and tried to garner charity funds using dubious means,'' said DCP (south) H G S Dhaliwal.
Sleuths claimed they have received ''definite evidence'' that the accused was eyeing funds from abroad. ''A particular entry in his diary says he had received several crores from a charitable organization based in Las Vegas,'' said a police officer.
According to police, daily income of the godman was over Rs 1.5 lakh per day. ''Dwivedi was very particular about maintaining his finances and kept a close watch on those whom he employed. He kept a record of each payment made to the girls. He even decided their shifts, off-days and holidays,'' said a senior police officer.
''On Saturday, our team went to Chitrakoot with Dwivedi as we wanted to confirm his links there. But, we faced a lot of hostility with his henchmen gathering locals and creating ruckus. The team's movement near the Manikpur police station was hindered,'' said Dhaliwal. According to UP Police, extra staff from the Provisional Armed Constabulary was rushed in to control the situation.
The police said various love letters recovered from his Khanpur temple notwithstanding, the godman is married and has a 13-year-old daughter. ''His wife lives with his parents in Chamroha village, UP. He owns 10 acres of land there which he claimed would be used to set up a temple and hospital.
His daughter, a student of class 8, studies at a leading residential school in Gujarat,'' said a police officer. Dwivedi's father, Baccha Lal, allegedly an aide of the dreaded UP gangster Dadua, has two cases against him, one of murder and another of dowry harassment which was lodged by the parents of Dwivedi's sister-in-law who died earlier.
Sources said the police have found four bank accounts opened in the name of Dwivedi. In addition, several of his associates and henchmen used other bank accounts to keep track of finances. ''Dwivedi knew keeping that too much money in a single account may attract the I-T department attention,'' said an investigating officer.
The arrested also allegedly possessed different mobile numbers. Police claimed that Dwivedi aimed to make it to the list of top billionaires by "eyeing big donations" from foreign agencies and Christian missionaries. He wanted to become a kingmaker in politics, using his followers as a "vote bank" to further his influence.
The Deputy Commissioner of Police (South) HGS Dhaliwal said: "We have invoked Section 3 of MCOCA against Dwivedi. There are over five cases and two chargesheets against him. An FIR under MCOCA has been registered at Saket Police station on Saturday." Dhaliwal added that if convicted, he could even get life imprisonment and a fine of upto Rs 5 lakh. "Earlier in Lajpat Nagar, Dwivedi pleaded guilty in an Immoral Act case and managed to get away after paying some fines. This time too, he was planning the same. But if we can book him under MCOCA, he will not be able to do so,'' claimed an officer.
Swami Nityananda
Video footage of another godman Swami Paramhansa Nityananda, indulging in sexual acts with women was telecast by Tamil TV channels last week, particularly Sun TV. Swami Paramhansa Nityananda is a 32-year-old self-styled godman, staying in a sprawling 29-acre ashram in Bidadi, about 30 km from Bangalore in Karnataka. He hails from Tamil Nadu. His devotees claim the swami's goal is to spread the inner science of enlightenment by delivering physical health, mental wellness and spiritual awakening to all beings irrespective of their race, gender or nationality. The swami's mission is to enlighten the people through yoga and meditation.
The godman has founded "Nithayananda Mission" as a part of a worldwide movement for meditation and peace. He claims to have about 1,000 branches across 33 countries and about two million followers the world over. He has a number of ashrams "Nithyananda Dhyanapeetam" in Tamil Nadu, Karnataka and Pudducherry.
Certain Tamil TV channels on Wednesday telecast video footage of the godman indulging in sexual acts with two women, including one Tamil actress who has played leading role in many films and TV serials. The swami was shown fondling and kissing the women and in a compromising position with them in turns. It was followed by arson as enraged mobs ransacked his ashrams, smashing his portraits, banners, billboards. His ashram sources say legal course of action is being worked out. The video footage shown by news channels were not shot in the ashram. Rather, swami's enemies hatched a conspiracy to malign and blackmail him. His whereabout is not yet known. But his disciples say the swami will return to the ashram soon.
Nithyananda Swami, whose whereabouts are unknown, on Sunday March 7, appeared on his official website and assured his devotees and well-wishers that he will come back with clear details about the allegation against him. This was the first time he was making a statement since the SUN TV sting operation about his sex scandal with Tamil film actress Ranjitha, was made public on Tuesday March 2.
Clad in his standard saffron attire, he said, "Dear one and all, there have been many allegations against me and my organization in the recent days, but at the same time I have received overwhelming support from my devotees, and well-wishers worldwide through e-mails and other forms of communication. Those who have benefitted from my teachings are shocked by the allegation against me. I assure all of you that nothing illegal has been done by me or my organization. We are in the process of collecting evidence to establish this lie and the motive behind this false campaign. I will address all allegations soon in front of you. I urge everyone not to rush to judgments before all the facts have been tabled. Please wait for some days; we will collect all the facts and present it clearly to you all. I thank all devotees and well-wishers for standing by me during this moment of challenge."
Engineering diploma at 17, enlightenment at 20
The law, of course, will not determine whether Paramahamsa Nithyananda, the self-styled godman allegedly in the thick of a sex scandal, is indeed an "enlightened one" or a charlatan.
But what has already interested the Tamil Nadu and Karnataka police is his educational background, which is a clue to an almost "fantastic feat", as one Bangalore police officer put it.
In 1990, Nithyananda, who was then known as Rajasekaran, was allowed enrollment to a three-year mechanical engineering diploma course at the Rajagopal Polytechnic College in Gudiyattam in Tamil Nadu's Vellor district. Rajasekaran was then all of 12 years of age.
A simple subtraction would show that he was only 17-year old when he graduated, the mechanical engineering diploma tucked under his arm, and well on his way to self-proclaimed "enlightenment".
Even as the scandal hit the headlines, the college authorities continue to run a scroll flash file on their website that says: "As an alumini, Swamiji Nithyanantha has donated magnanimously Rs.200000 (Rs two lakh) for Noon Meal Scheme. Each year he used to donate huge sum whole heartedly. We proudly register here that he is our old student, did his Mechanical Engineering (1990-1993)." In this context, senior Tamil Nadu police officers said they could take action "if only a formal complaint" was lodged. One officer said that a through background check of Nithyananda "is in place" to ascertain his educational qualifications. "Your guess is as good as mine on the claim that he attained enlightenment in the year 2,000," he said.


Nityananda Swami turned down Ranjitha's (above) offer to renounce sanyas and marry her because he didn't want to give up property worth several hundred crores. According to sources, Ranjitha turned vindictive after that and hatched a plot to expose him with his personal secretary Lenin Karuppan. Yet, there is no denying their love relationship.
The polytechnic institution ran Nithyananda's photograph alongside its expression of gratitude to the godman till such time when all appeared to be going smoothly for him, but removed it promptly when the scandal broke.
While it is true that the Swami has done nothing illegal – sleeping around with actresses is not against the law, but it is not marally correct for a self professed brahmachari to be doing so. The real reason for the sting operation is something else as reported by B V Shivashankar.
'Smitten' Ranjitha exposed sex swami
Ashram sources say the Tamil star dreamt of a married life with Nityananda. Is believed to have hatched plot with swami's personal secretary. According to ashram sources, Tamil film-star Ranjitha dreamt of a married life with self-styled godman swami Paramhansa Nityananda and her possessiveness made her expose him on TV channels. Ranjitha, who is three years elder to Nityananda (32), was married to an army officer with two children, when she was introduced to him three years back by veteran star K R Vijaya's niece Sudha, a full-time devotee. "She was not a regular visitor in the beginning," said the source. "The swami's charm gradually made her fall for him and she even decided to shift base from Chennai to Bangalore." Ranjitha filed for divorce some time ago and the matter is pending in the court.
After getting intimate with the swami, she is understood to have asked him to marry her and even got a positive response. Ashram sources say she could have convinced him by giving the instance of Vidyabhushan of Kukke Subramanya Matt, who renounced his sanyas to marry a medical student. Lenin Karuppan, a close aide to the swamy, who owned up his role in taping the sexual acts, was also close to Ranjitha and used to call her 'anni' (sister-in-law) occasionally. Although Nityananda assured Ranjitha that he would marry her, he was worried about the property worth several hundred crore rupees that he would have to give up along with his sanyas.
Eventually, the swami not only turned down her proposal but also made things worse by seeing other women. A possessive Ranjitha pleaded with him several times and could have turned vindictive when her pleas fell on deaf ears.
The plot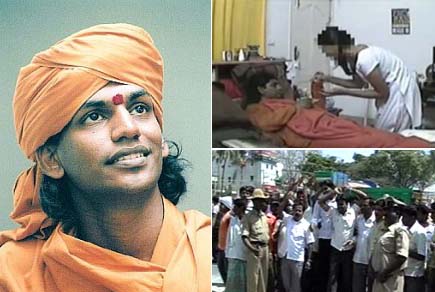 "I think Karuppan and Ranjitha hatched the plan together," said the source. "I recall that they spoke quite casually to each other since a long time." Karuppan is also understood to have blackmailed the swami just a month ago but Nityananda was not in a position to oblige.
"Please don't force me to comment," said Swamy Sevanda, personal secretary to Nityananda. "I know both Karuppan and Ranjitha and also know that they are not honest," he said. There is also an unconfirmed report of Ranjitha attempting suicide on Saturday. She was learnt to be in Kerala yesterday.
'I'll come clean'
Meanwhile, Nityananda has uploaded his video statement on his ashram website from an undisclosed location. The statement says that the controversy is a conspiracy hatched against him and he would soon come out clean.
We at JD News believe that the only real way to come out clean is to speak the truth and then either marry Ranjitha or do what Śaṅkarācarya directs such breakers of saṅnyāsa vows.
Burning March
The scandals have rocked this month as fires burn the ashram of Swami Nityananda and sex scandal jails Swami Bhimananda.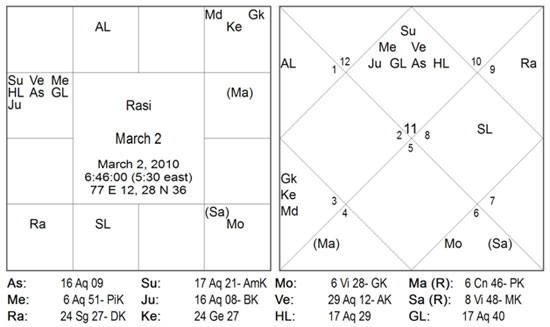 The scandal started a day after the exact conjunction of Sun and Jupiter. The combustion of Jupiter, especially in Aquarius is a very auspicious time in the world as Lord Śiva awakens to look at the Gurus and spiritual people. It is a time of cleansing of the world. The Mahā Kumbha mela is being celebrated to commemorate this occasion and repeats every 12 years. Varahamihira speaks highly of this combustion of Jupiter saying that it shall rise after 13 days with renewed spiritual luster. These godmen who have tainted the beautiful Indian spiritual spectrum stand combusted by the third eye of Lord Śiva. The lord cannot tolerate sexual impurities in those who have chosen the spiritual path and in this manner he corrects them.
Saturn adds to the woes of these godmen by demanding complete cleanliness when in Virgo, the purity sign. The Moon on March 2, 2010 was conjunct Saturn while on March 7 it was in Scorpio aspected by Saturn. The parivartana between Rāhu and Jupiter confirms that these scandals are true and even if the legal loopholes are exploited by them, the truth cannot change.
India needs laws where the property of such godmen, which is obtained by cheating the gullible public, is confiscated by the state and used for public welfare.
---
[1] Other sources give the name as Rajiv Ranjan Dwivedi alias Ichchadhari Sant Swami Bhimanand