Mother: Manju Rath

b. 29 Oct. 1943 at 4.55 am IST at Jajpur, India 86 E 25?, 20 N 51? Born Suprabha Tripathi her name was changed to Manjoo Rath at the time of marriage on 23 Feb. 1961. She is the eldest daughter of Dr. Kailash Tripathi and has three brothers and three sisters. An elder sibling was stillborn.
Father: Umakant Rath
b. 12 Nov. 1934 at 6.30 pm IST at Cuttack, India 85 E 50′, 20 N 30′
Childhood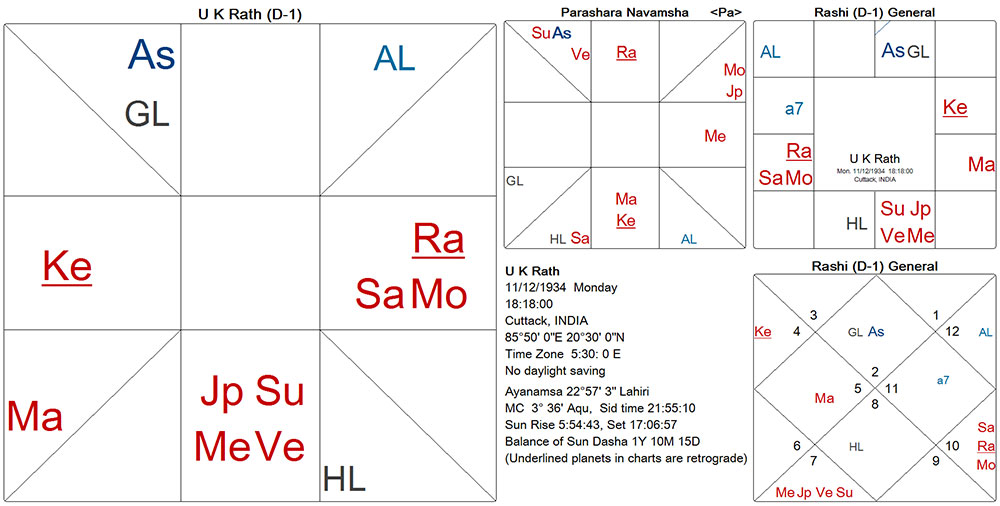 He was the youngest child of Pt. Jagannath Rath and Chandra Devi. He had four elder brothers and three elder sisters i.e. he was the astama garbha (8th pregnancy – Moon). The two eldest brothers had died before his birth from a natural cause and snake bite respectively. His father had mourned the death of the second brilliant son very much and had worshipped Lord Shiva by keeping a 21 day fast for his birth.
His early education was in the free village pathsala (school of sorts) and later in the neighboring village school where the headmaster paid his fees as his father had lost his job on account of the freedom movement – he held the Puri collectors horse by the reins (Parasara style!).
His favorite childhood hang out was the village Somanath (Shiva) temple where he enjoyed the fruits and swimming in the adjoining Bhargavi (Venus) River. Every other year the river would flood and the inhabitants had to swim for their lives and he has fine accounts of survival. On one occasion he swam neck to neck with a huge cobra and got the floating tree trunk before the cobra!
His first experience with black magic was when he was barely 12 years old in Moon dasa Ketu antardasa when his eldest sister was possessed by an evil soul and the local tantrik had to be called to remove the same. He was the only one (bachelor required) who volunteered (after his father's coaxing) to be the tantriks assistant, visit the local cremation ground on amavasya and retrieve a bone after a rite, bring it near his sister and then carry it to the river and throw it – she recovered!!! He remembers that he ws frightened and would hold his sacred thread and recited the gayatri mantra before going and the name of Lord Somanath throughout. That's how his faith in Lord Shiva was built.
He and his mother went to stay with his father at Puri. Poverty was natural to all the people of Orissa and it did not matter. He would swim a mile into the sea and the captains of the foreign ships coming to Orissa always fed him well. The sea adventures are many and shows daring and the ability to survive – the zeal of Venus is strong. At the fag end of the Moon dasa he had a life threatening small-pox attack. His survival was nothing short of a miracle and it happened exactly on the date and time his father had foretold. At this juncture he was advised by almost everyone to skip the matriculation examination as he was not prepared due to his illness. His father sat overnight doing his astrology calculations on a slate and chalk (paper was too expensive to afford) and in the morning said, "Do you have faith in me and Lord Shiva? If so, then take the examination. Your Mars dasa has just started and you will top the examination and get a scholarship for your engineering. You know that we have been dispossessed of our home and lands and I have no wealth left for your education." He took the examination as his headmaster paid the exam fees and went on stand first in the Orissa State matriculation examination winning the scholarship for college.
His middle brother bought his one-way general class ticket to Pilani, Rajasthan and his uncle gifted him his first pair of shoes – after all he was going to be an electrical engineer from BITS Pilani. With two half pants and this shoe he took the tedious five day journey to Pilani. The scholarship was always late due to red-tape and after his marvelous performance in the first year, he became the pet of an industrialist, the founder of BITS Pilani – Shri Ghanshyam Das Birla. He was gifted a badminton racket and went on to be the Rajasthan champion and India No.2 with it. They gave him swimming trunks and he went on to hold the national endurance swimming record in it spending 72 hours in water – he can sleep in water! The Rajputs of Rajasthan turned out to be very large hearted and brave friends like Mr.Talwar who gifted him his first pair of trousers and he could debate in all forum in them making his college very proud. That was Mars dasa causing nicabhanga of the Sun. After graduation Shri G.D.Birla offered to fund his Masters degree at Harvard, USA but he had a responsibility towards his family who were poor and he had to return home and take up a job with the Orissa State Electricity department and maintain them.
Marriage & Middle life
He married into the leading family of the Tripathi's from Cuttack on 23 Feb 1961 (Rahu-Sat-Rahu: astrology pundits check this out!). His father-in-law Dr. Kailash Chandra Tripathi was a leading doctor. Most of the elders of the family had taken diksha from Ma lakshmi Devi (Ramakrishna Paramhamsa's niece) and had built the R.K.Mission at Cuttack. Almost everyone was either a leading judge, lawyer, doctor or IAS officer. He had three sons. Just as predicted by his father – being the blessings of marrying a girl born on amavasya (dark Moon) and performing pooja: Brahma, Vishnu & Maheswara in the reverse order would bless the couple.
His eldest son was born on 28 March during Rah-Mer-Ven on a Wednesday (Mer antar) with vargottama Venus in exaltation in Pisces lagna and Sun (Shiva) closely conjunct lagna. The second son Sushant (later changed to Sanjay) was born on 7 August 1963 during Rah-Mer-Jup on on a Wednesday (Mer antar) with Jupiter in Simhasanamsa in Pisces lagna showing the protection of Chakradhara Vishnu (Saravali) and the third son Sumant was born on 16 Feb 1965 in Rahu-Ketu-Sat on a Tuesday (Ketu antar) in Cancer Lagna. Brahma is the deity of Saturn (Parasara). His wife wanted a daughter very much but heeding his fathers warning (see Parasara – daughter after three sons), he went and had an operation preventing further childbirth. He joined NMDC a Government of India enterprise and got the Prseident of India's gold medal for his outstanding service in developing the Kiriburu mines on 12 Nov 1964 (Rahu-Ketu-Jup).
In 1966 anti-sikh riots started in the mining areas as a sikh truck driver raped a tribal girl. He played a pivotal role in pacifying the tribal people (more so as he was a Brahmin from Puri). One time his driver Sardar Gurbaksh Singh, was chased by tribals carrying bows and arrows and he came running home. Mrs. Manju Rath hid him in the huge trunk and 3-year old baby Sanjay was placed on top to guard! The tribals stopped short of the baby and hearing the calming words of the lady and name of Jagannath gave up the blood thirsty chase. He later joined Larsen & Toubro Limited (now L&T) in 1969 (Rahu dasa Moon antar) building a personal friendship with Mr. Hoc Larsen of Denmark. He had his first private car – a black sedan in the same year (ORO 710 – number 8 repeats often). The nationalist movement had gripped India when everything from banks to foreign companies were being taken over by Government.
He left L&T to start his own business in March 1973 (Jup-Jup) and also built his huge house modeled in a German design in Bhubaneswar in the same year. He got the design from friends in Düsseldorf, Germany in 1971 during a visit. Very soon Mr.Larsen also left India when he was forcibly divested of his ownership of L&T due to changed laws. Mrs.Indira Gandhi He admired Mrs. Indira Gandhi and was an ardent follower of hers. When his license for building the fastener plant was withheld by the cental government, he requested Sri G.D.Birla to intervene (basically the industry planned would manufacture bolts and nuts for the Calcutta based Hindustan motors of Sri Birla). In his second meeting with Mrs.Gandhi he flatly told her, "Ma'am your dictator of a secretary is neither giving me the license nor is giving me a plausible cause for withholding". To this the most charismatic leader India ever had, Mrs. Gandhi explained the policy clearly and deftly in a few words and smilingly replied, "now that you understand, tomorrow the same dictator of a secretary will give you the license". Later when the Piss-Cola culture grabbed India and Morarji Desai* put her in jail, he was among the few who visited Mrs. Gandhi to give her moral support. Remembering him from an earlier meeting, she enquired as to why he had risked this visit and could be prosecuted, he replied, "At good times, there are many who will vie for your attention, and it is at such times that those who admire you will stand up against this atrocity. I agree with father – this jailing for political vendetta is a pathetic development in democratic India.
    *Believe-it-or-not: Morarji Desai actually drank a glass of his own urine every morning for good health and even expected the nation to follow him in this.
Lord Somanath
 He built a modern fastener manufacturing industry in 1982 in Jup dasa Venus antardasa called SN Corporation Limited with a technical and financial collaboration with the Sakamura Group of Japan and Mr. Sakamura was a personal friend who was very spiritual, steadfast and of impeccable character. SN stands for SomaNath? – just as his house is named SomaNath? Villa after Lord Someshwara Shiva. In April 1984 in the fag end of Jupiter dasa Moon antardasa, the Government of Orissa took over the management of the company and successfully managed to make it completely sick after corrupt bureaucrats looted it for several years just as the temple of Lord Somanath was looted by the Ghaznavi plunderers. He fought the cases in courts believing that justice would come and he did win all of the cases showing that the action was illegal and malafide, but it was too late. The industry was destroyed beyond redemption and with it his dreams. He still nourishes a dream of building a temple for Lord Somanath in Bhubaneswar.
A Confession
In 1987 when I returned to Orissa after mechanical engineering graduation, I got involved in the court cases and was very angry with the way my father had been betrayed by his closest and trusted lawyer friend Mr. Mohanty. I started learning tantra and in the winter of 1987-88 started learning the Bagalamukhi tantra (Sat-Ven period) for the complete annihilation of enemies with the prime objective of destroying my fathers terrible enemies. Sri Bhagavan Mishra the great tantrik of Orissa was a teacher and I also visited Calcutta and had a Bagalamukhi kavacha prepared by the son of the greatest tantra master of Bengal – Pt. Ramesh Chandra Bhattacharya. Thereafter I was able to convince my father (after a lot of arguments) to have a Bagalamukhi puja done. When Sri Bhagavan Mishra asked him to take the names of his enemies at the time of breaking of the coconut, father refused and said that there are no enemies! So, the Puja had to end with prayers for destroying bad karma. I was very angry with father and called him a coward for not fighting his enemies, especially Mr.Mohanty the criminal lawyer. Mr. Mohanty had suddenly developed Cancer in 1987 and had wasted away all his money in fighting the disease at Bombay since then. Father said that he was suffering for his sins and that was the will of Shiva and that he would not fight an old friend.
In 1989 I did a powerful Bagalamukhi anusthana and swore not to do Ganesh Puja again if he was not destroyed! – my guru for all pujas is Shakti Ganesha. Mr.Mohanty died the night before Ganesha Puja!!! I was shocked; mother was shocked; gurudev was mad with me. His words that had made me leave Karate and all forms of physical violence – "there are no enemies, there are only mirrors" kept ringing in my ears. Father wanted me to leave Orissa and get out of his issues. The next year he sent me to Cuttack on the pretext of some work and when I returned, a bonfire had been made with all my astrology books. I was told that an astrologer had advised that Jyotish was not good for me. I have always suffered the jealousy of scheming astrology colleagues. They could not take the reputation that a young Sanjay was getting with astounding predictions thanks to Sri Sri Shakti Ganesha. The Bagalamukhi anusthana did not go in vain and the arrow that leaves the bow of an expert archer will find its mark. It was too late to call it back. Father was grossly betrayed by three partners – Mr. Jain, Mr. Agarwal and Mr. Mohanty. Mr.Jain's darling daughter was caught by the Calcutta police for smuggling gold and went to jail; Mr. Agarwal went to the Ranchi mental asylum after his wife died suddenly and Mr. Mohanty had Cancer and died. All this was too mcuh and in Mars antardasa (9th lord), I turned to Jagannath seeking peace within. I left for Delhi in 1991. Since then there have been many occasions or rather provocations, but gurudev's words – "there are no enemies, there are only mirrors" keeps ringing in my ears. That was my Saturn dasa…one dark age of my life.