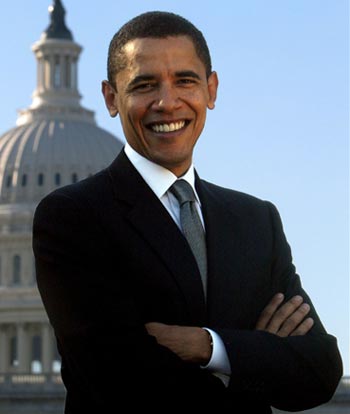 In the chart of Barrack Obama, the Moon is in its exaltation sign in Taurus while Jupiter is in its debility sign in Capricorn. Moon in the 5th house gives many friends (dṛṣṭi 11H of friends), popularity and being in exaltation it gives great success and fame. As such it is the lord of the 7th house placed in 5th bhāva showing devotion to the almighty Śiva (Holy Father) and this brings power, position and fulfillment of all desires.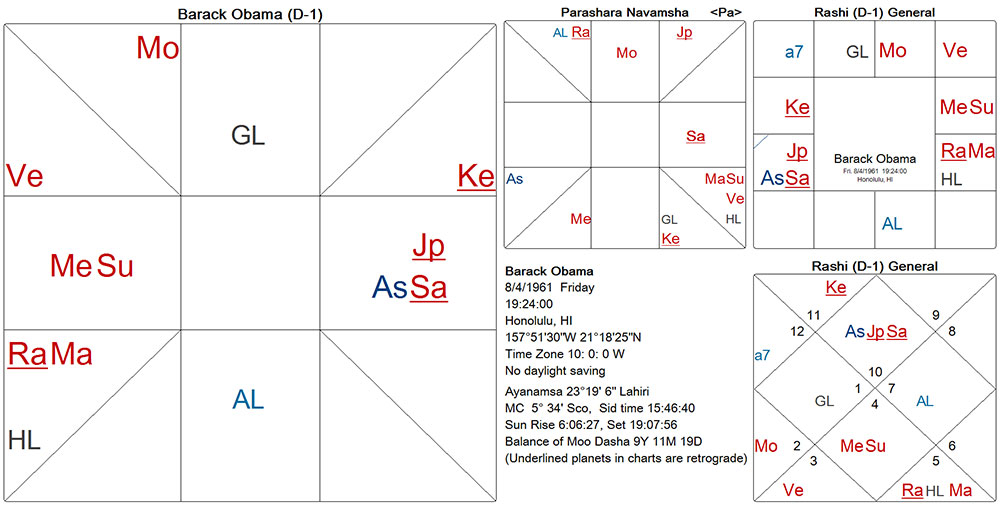 The aspect of the Moon on the 11th house brings many friends and supporters but this is Scorpio, its sign of debility. Therefore this may prove to be his undoing or fall of the significations of the Moon. Friends may end up using his goodwill. It is evident that whenever a planet is exalted, it shall aspect its sign of fall and this is its weak spot.
Jupiter is debilitated in Capricorn and being in fall it destroys the significations of the houses it shall own, and not the house it is placed it. Jupiter is the lord of the 3rd and 12th houses which are generally classified as bad houses. Therefore the placement of Jupiter in debility is a kind of blessing in disguise as it damages secret enemies in the 12th house and challengers in the 3rd house. A retrograde Jupiter is truly beneficial when in debility as then it gives the results of its opposite sign Cancer. And we know that Jupiter in Cancer is exalted. Therefore during the period of Jupiter he rose, slowly and surely to become a senator.
Moon is the lord of Cancer and is in the 5th house from Jupiter besides being the lord of its exaltation sign. During the conjoined period of these planets Jupiter daśā Moon antardaśā, his popularity soared and he became the President of the United States.
In this manner we see how planets in exaltation or in debility can dramatically alter life. These are powerful positions and should be studied carefully.
Some of you may give an argument that Jupiter is conjoined Saturn whose results he is sure to give. Now we know that Saturn is in Sasa Mahāpuruṣa Yoga and has astoundingly high ṣaḍbala (188). Besides it is retrograde and gives the results of being in Cancer. It is said that Jupiter in Pisces and Saturn in Cancer are sure sign of rājayoga as they have the strength of Tārā Mahāvidyā. In fact Jupiter and Saturn in water signs give the powers of Tārā while these planets in wind signs bring the might of Kālī Mahāvidyā. Perhaps for this reason the three wise kings of the east went looking for a baby (Jesus) when Jupiter and Saturn conjoined in Pisces. In any case if Jupiter was giving its own nīcabhañga or the conjunction with Saturn, both results were one of rājayoga.
But then by the same argument, Saturn should be giving the rājayoga of Jupiter plus its own power, and Saturn daśā starts only in July 2012. Till then Obama has to deal with a terrible Rāhu spoiling the rājayoga of Jupiter by pāpa-argalā (8th house from Jupiter) as well as pāpa-argalā on Moon (4th house). In any case we can say that the exalted Moon brings the blessings of Kṛṣṇa promising huge popularity and success in destroying enemies (Osama Bin Laden for example). We can also say that the debilitated Jupiter needs Tārā śaktī to get activated, and this must have happened for him to attain the high position. How did this happen? (A) Moon, the lord of exaltation sign of Jupiter is exalted, (B) Saturn the lord of debility sign of Jupiter is in kendra from Lagna and in Mahāpuruṣa yoga and conjoins Jupiter, (C) Mars the planet which gets exalted in Capricorn, the debility sign of Jupiter is placed in kendra from the Moon.