Melbourne has suffered a Rāhu attack in the form of a Sixteen-hour siege on Monday, 15 Dec 2014 a day before Dhanus saṅkrānti. A brief outline of the events and the vimśottari daśā [Ven-Sat-Sun-Rāhu] of Australia Chart. In the Australia natal chart Venus and debilitated Rāhu conjoin the 8th bhāva showing troubles and suffering.
The siege occurred at Lindt Chocolat Cafe in Sydney's Martin Place, a busy plaza in the heart of Melbourne city.
The chart for the incident start (assumed 9:00 am) has exalted bādhakeśa Mars in exchange with lagneśa Saturn in bādhaka rāśi Scorpio in a terrible conjunction with the 8th lord Sun.
Errata
Abhijit has pointed out the place is Sydney and not Melbourne as taken in the chart. The is approximate and when we make the chart for Sydney, planet positions on the Rasi Chart will be the same. None of the points which are based on the Rasi chart change.
Error regretted. Author
There is no relief whatsoever and these three malefic planets also have a pāpa kartari yoga on Mercury and Venus in the 12th bhāva which shows the two people who died –
Mercury: Tori Johnson, aged 34, the young man who was the owner of the Lindt Café is shown by Mercury who conjoins the 10th lord Venus
Venus: Katrina Dawson, aged 38, the lawyer indicated by Mercury conjoining Venus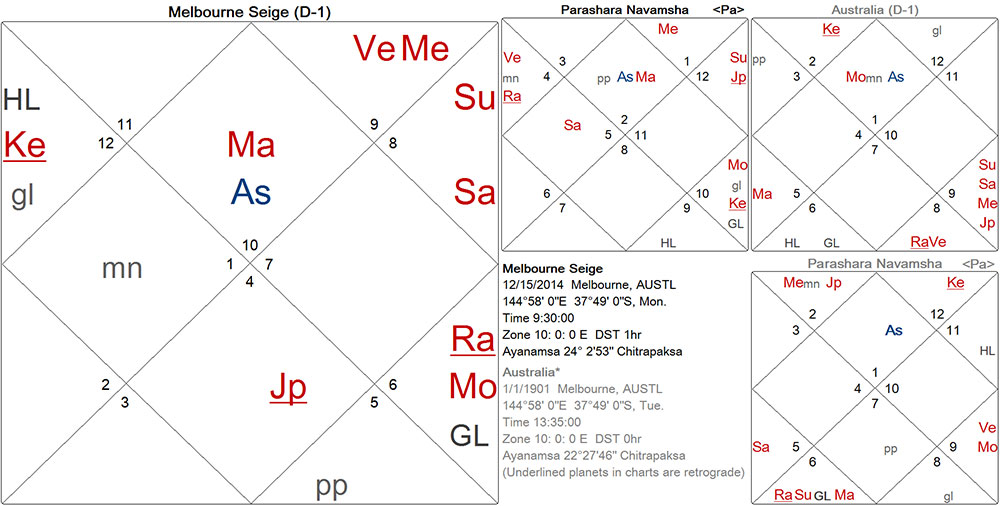 The Terrorist
Man Haron Monis
Dramatic footage of moment armed police storm café amid gunfire and explosions
Mirror
The terrorist(s) are seen from the 7th bhāva which is Cancer with retrograde Jupiter indicating the terrorist as a cleric. Retrograde exalted Jupiter gives results of being in debility showing a fallen cleric or an imposter. The 7th lord Moon in Virgo conjoining Rāhu in maraṇa kāraka sthāna shows that the terrorist will also get killed.
This happened around 2:20 AM on Tuesday (16 Dec, 2014) when Virgo was rising with Moon and Rāhu showing the unfolding of the siege-chart. Police officially confirm end of siege at 2:48 AM.
Background

The terrorist was a self-styled sheikh Man Haron Monis, was formerly Manteghi Boroujerdi an Iranian refugee. A former self-styled Shia cleric living in southwest Sydney, he was 50 years old and had been living in Australia since 1996. He had recently converted to Sunni Islam and had posted "I used to be a Rafidi, but not anymore. Now I am a Muslim, Alhamdu Lillah" on his website earlier this month. Monis, along with his current partner Amirah Droudis, had been arrested and charged as an accessory to the murder of his ex-wife Noleen Hayson Pal, in 2013. Noleen was stabbed and set on fire on the staircase of her apartment in Sydney but both Haron and Amirah were released on bail after the case was deemed 'weak' by magistrates.
Offensive Mail

Haron and Amirah gained notoriety in Australia after sending numerous offensive letters to the grieving families of Australian soldiers killed in Afghanistan within days of their deaths between 2007 and 2009. Although he pleaded guilty to 12 charges relating to the malicious letters after a four-year legal battle, he was unrepentant.
From now on when I want to advise people not to kill children I should do it by hand delivery, not by using postal service!Man Haron Monis
Sex Crime History

Haron was also arrested by Australian sex crimes squad detectives in April and charged with the indecent and sexual assault of a 27 year-old woman at his property in 2002. During a recent court appearance in October 2014 he was charged with a further 40 sexual offences, including 22 counts of aggravated sexual assault and 14 counts of aggravated indecent assault relating to six other women. He was operating as a self-proclaimed 'spiritual healer' at the time of the alleged offences. Out in bail he was to appear in court shortly for these charges.