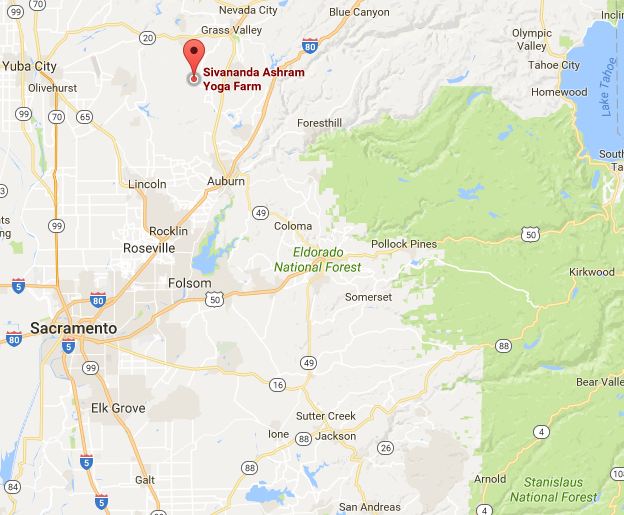 18th Vedic Astrology Conference
Exploring the Inner Journey through Yoga and Jyotisha
Presented by Sanjay Rath, Sarbani Rath, Komilla Sutton, Andrew Foss PhD, William R. Levacy, PhD, James Kelleher, Keiko Ito, Bill Sinclair, Pandit Samavedula, Swami Sitaramananda
Dates: Saturday, July 1 – Wednesday, July 5, 2017
Venue: 14651 Ballantree Ln, Grass Valley, CA 95949, United States
Phone: +1 530-272-9322
Tuition: $295.00
Book and Join


Adhyātma Jyotiṣa Workshop by Pt. Sanjay Rath
Adhyātma refers to the Supreme Spirit as well as one's own; belonging to self or concerning self or individual personality. Self-realisation is what all spiritual paths aim to achieve, either as the final objective itself or an intermediate stage. Either way jyotiṣa, as the eye of the Vedas, is what helps us to see and know ourselves. This is the real jyotiṣa ocean that Ādi Shankara was referring to before his debate with Mandana Mishra (later Sureshwara). Every great journey must start with a tiny step. And this is what we aim to take up at the holy Sivananda Yoga Farm by starting with Vedic Cosmology and the Horoscope [The teachings are based primarily on Shiva Mahāpurāṇa, various upaniṣad, jyotiṣa classics etc.]
Tuesday, July 4th
AM: overview of multiple lokas; 14 loka and tala of Brahma mapped into the horoscope; seven lokas in seven chakras, their shape, devatā and Sanskrit akṣara; understanding positions of graha, nakṣatra, and various devatā; in essence you will get a three-dimensional view of jyotiṣa as well as its map to your chakras, especially mūlādhāra, bhū-loka, Śrī Śaktī, Vidyeśvara Gaṇeśa and saṅsāra (mundane life on earth).
PM: Nāḍi – iḍā, piṇgalā and suṣumna; their flow in ṣaḍchakra while suṣumna alone moves to sapta-chakra (sahasrāra); vāyu (wind) as the 'vāha' (carrier) of saṅsāra; prāṇa in jyotiṣa;
Wednesday, July 5th
AM: aṣṭa charakāraka overview; ātmakāraka is Śiva; choosing rudrākṣa; understanding advaita and dvaita concept in jyotiṣa. kāraka lagna (rāśi) and kārakāṁśa (navāṁśa) as taught by Parāśara; īṣṭa devatā, dharma devatā, pālana devatā in navāṁśa; ṣaṣṭiāṁśa link to vedic knowledge; the Guru and dīkṣa timing;
PM: bandhana and mokṣa; mokṣa yoga of Parāśara
Conference Speakers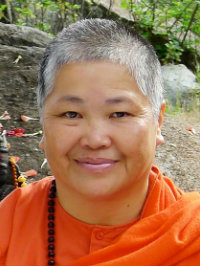 About Swami Sitaramananda
Swami Sitaramananda is a senior disciple of Swami Vishnudevananda, who is a direct disciple of Swami Sivananda. She was nominated acharya by him in 1989 and is presently acharya of US West coast Centers and Ashrams as well as Asia, especially Vietnam and China. She has been director of the Sivananda Ashram Yoga Farm for more than 20 years and has taught many international Teachers Training Courses in California, Vietnam, China, Taiwan and India and is also teaching regularly at Sivananda Ashram Yoga Retreat, Nassau Bahamas. She is the author of
Positive Thinking Manual
,
Essentials of Yoga Practice and Philosophy
(translated in Chinese, Japanese and Vietnamese) and
Swamiji Said, a collection of teachings by Swami Vishnudevananda in His Own Words
as well as two poem books. She is responsible for the Vietnamese translation of
The Completed Illustrated Book of Yoga
by Swami Vishnudevananda. Some of her audio lectures on Yoga Life, articles and webinar presentations can be found on the website.
www.sivanandayogafarm.org/topic/swami_sitaramananda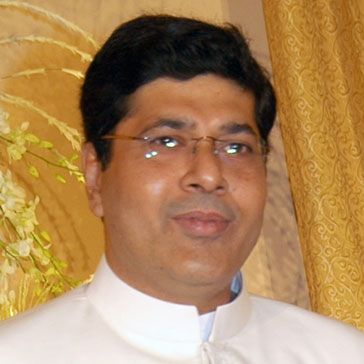 About Sanjay Rath
Sanjay Rath belongs to a traditional family of astrologers from Bira Balabhadrapur Sasan village of Puri, Orissa, which trace their lineage back to Shri Achyuta Das (Sri Achyutananda). Sanjay studied under his uncle, late Pandit Kasinath Rath. His grandfather, the late Pandit Jagannath Rath, was the Jyotish Ratna of Orissa and authored many books on Jyotish. He began his studies at a tender age, and received the depth of Jyotish only found among those who have been trained in the ancient traditional way of the parampara. He later became a graduate of mechanical engineering and worked for some time with the Government of India. Leaving government service to devote himself completely to Jyotisha, he has the depth of the ancient knowledge with the ability to communicate it to the modern mind.
He uses Brihat Parasara Hora Shastra, Jaimini Upadesa Sutras, Brihat Jataka and Saravali as the foundations of Jyotisha and teaches from various other Jyotish scripture and sacred literature such as the Bhagavad Gita, Upanisads, Puranas, etc.
www.srath.com
About Komilla Sutton
Komilla is the co-founder and Chair of the british Association for Vedic Astrology. She is an internationally renowned consultant, teacher and lecturer. Indian born, Komilla Sutton is one of the pioneers in making tis subject more accesible for the Western readers. She is the author of 'Vedic Love Signs', 'Vedic Astrology', 'The Essentials of Vedic Astrology' and 'Lunar nodes – Crisis and Redemption'.
www.Komilla.com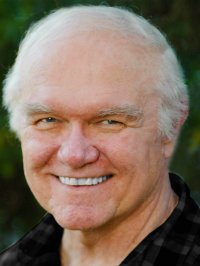 About William R. Levacy, PhD
William R. (Bill) Levacy holds a BA in Literature, a Master's in the Science of Creative Intelligence, a Master's in Education, and a Ph.D. in Education with a specialization in Human Performance Improvement (HPI). Bill is the author of, "Beneath a Vedic Sky," "Beneath a Vedic Sun," and "Vedic Astrology Simply Put." He is a recipient of the 2011 "Jyotish Medha Pragya" award by the Indian Council of Astrological Sciences (ICAS) in New Delhi, India and the 2012 "Jyotisha Manasagara" award from the Raman and Rajeshwari Research Foundation, in Bangalore, India. Bill is President of the American College of Vedic Astrology™ (ACVA), and the ACVAOnline ™ educational program at www.acvaonline.org. Bill has maintained an active consulting astrology practice since 1983 and has lectured internationally. Bill lives in Southern California and can be reached at wlevacy@vedicastrologer.com.
About Andrew Foss PhD
Andrew Foss PhD, is the President and co-founder of the British Association of Vedic Astrology. He has a BA and MA from Oxford University in Physics and an MSc and PhD in Computing Science. He is the author of the leading software for Vedic Astrology, Shri Jyoti Star and the editor of the journal Gochara. He is a Jaimini Scholar and has lectured internationally on Jyotish, Ayurveda and computing and has published extensively in peer-reviewed journals. Web site:
www.vedicsoftware.com
About Sarbani Rath
In 1998 when Bṛhat Parāśara Horā Śāstra became the principal book on her table she began exclusively studying and practicing Jyotiṣa under the able guidance of Pt. Sanjay Rath. After receiving the Bṛhaspati Gāyatrī in 2002 she has been practising jyotiṣa professionally and teaching as a Jyotiṣa Guru of Śrī Jagannāth Center (SJC). She went on to be the President of SJC in 2008. She continues her passion of reading Vedic literature and after finishing a thorough study of the Garuḍa Purāṇa, is currently working on Sāradātilaka Tantra and Skanda Purāṇa. In 2011 she successfully completed the 5-year long Jaimini Scholar Programme (2007-11) and is a certified Jaimini Scholar of the First Himalaya Batch of Devaguru Bṛhaspati Center (DBC). On the directions of the DBC-Institute she is currently a teacher and Course Co-ordinator of the 2nd Himalaya Batch of the Jaimini Scholar Programme. As the Managing Editor of Sagittarius Publications, she oversees the publication of the quarterly jyotiṣa journal The Jyotish Digest and other astrology books. She has presented papers at various Jyotish conferences in India, USA, London and Serbia. She is a member of the British Association of Vedic Astrology (BAVA).
www.sarbanirath.com/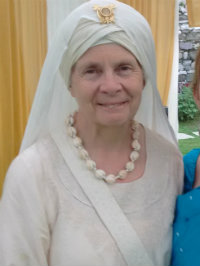 About Sat Siri Khalsa
Sat Siri Khalsa is a Jyotish practitioner as well as a teacher of Kundalini Yoga. An honors graduate of Harvard University, Sat Siri has lectured around the world and written on nakshatras and timings, prediction, spiritual astrology and healing, and financial astrology. She teaches many students as well as counseling, researching and writing. She was named a Jyotish Kovid by the Indian Council of Vedic Astrologers under Dr. B. V. Raman, one of the leaders of the current renaissance in ancient jyotish studies. She has been honoured as a Jyotish Brihaspati in 2014 and as a Jyotish Medhya Prayag by the Indian Council of Astrological Studies. Sat Siri is certified as a Jaimini Scholar, one of a small number of graduates in this advanced traditional teaching. She is a certified teacher of the Parasara Jyotish Course as taught by Pt. Sanjay Rath. She has been a member of the Council of Vedic Astrology since its early days and has been serving as Vice President for the last few years, furthering its work of certifying applicants as a Jyotish Visharada and Jyotish Kovid. Her mission is to encourage excellence and rigor in learning the esoteric foundations of yogic science as embodied in jyotisha and in mantra shastra. She follows a directive by Yogi Bhajan to write and counsel in this area; he called her "my astrologer."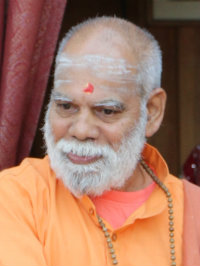 About Swami Vashistananda
Swami Vashistananda comes from the Namboodri lineage in Southern India, Kerala. He was the personal priest of Swami Vishnudevananda and has been a long-time teacher of bhakti and vedanta in the Sivananda organization ever since. He has been at the Yoga farm since October 2014.
About Pandit Samavedula
Pandit Smavedula is a 6th generation Sama Veda pandit who was trained in the Vedas beginning at age 7. He attended the Shri Sarva Raya Veda Patha Shala school in South India, and after 12 years of study, received his Master's Degree in Vedic Studies (Ganapati Pandit). Panditji will perform the pujas and homas during the conference.
www.vedicyagyacenter.com