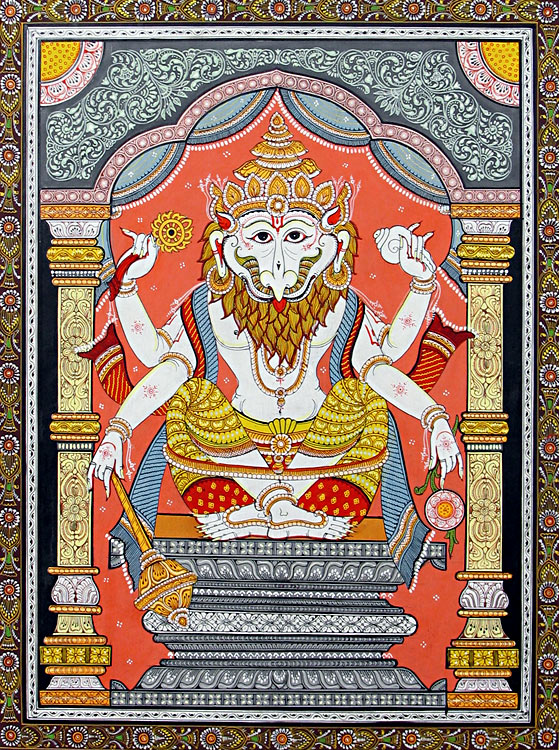 Lord Narasimha symbolises the exaltation energy of Mars. He gives the power to work, brilliance, strength, tireless effort, courage, fearlessness and brahmacarya as well. People under the influence of Mars including –
1. Mars in Lagna or aspecting Lagna
2. Mars daśā
3. Mars afflicting daśā lord
4. Court case and fights
5. Troubles at work
6. Engineers and technical workers
7. Prone to accident and dangerous work
8. Soldiers and firefighters etc.
Bija Mantra
Bija mantras are used for meditation
Bija Mantra
क्ष्रौं
kṣrauṁ
Veni Bija
ॐ क्ष्रौं
om kṣrauṁ
Triveni Bija
ॐ ह्रीं क्ष्रौं
om hrīṁ kṣrauṁ
Anustubh Mantra
उग्रं वीरम् महाविष्णुं ज्वलन्तं सर्वतो मुखम्।
नृसिंहं भीषणं भद्रं मृत्युर्मृत्युं नमाम्यहं॥
ugraṁ vīram mahāviṣṇuṁ jvalantaṁ sarvato mukham|
nṛsiṁhaṁ bhīṣaṇaṁ bhadraṁ mṛtyurmṛtyuṁ namāmyahaṁ||
ugraṁ – ferocious, terrible
vīram – brave, heroic
mahā-viṣṇuṁ – the Supreme the cause of creation who permeates everything
jvalantaṁ – fiery, brilliant
sarvato mukham – facing all directions implying protection from evils coming from everywhere
nṛsiṁhaṁ – Lord Nrsimha
bhīṣaṇaṁ – terrific, formidable, frightening
bhadraṁ – blessed, auspicious, fortunate
mṛtyur mṛtyuṁ – He is death (end) to death itself i.e. freedom from the cycles of death in mṛtyu loka. mokSa itself means mo (negation or reversal, end) and kṣa (laya)
namāmy ahaṁ – I offer my respectful obeisances unto Him
12 aksara Narasimha Japa-mantra
ॐ नमो भगवते नरसिंहाय
om namo bhagavate narasiṁhāya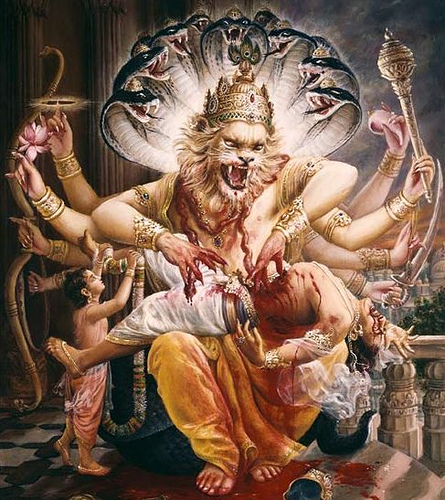 14 aksara Narasimha japa-mantra
Recite this 108 times in evening
ॐ क्ष्रौं ॐ नमो भगवते नरसिंहाय
om kṣrauṁ om namo bhagavate narasiṁhāya
Bhagavata Mantra
ॐ नमो भगवते नरसिंहाय
नमस्तेजस् तेजसे आविराविर्भव
वज्रनख वज्रदंष्ट्र कर्माशयान्
रन्धय रन्धय तमो ग्रस ग्रस ॐ स्वाहा
om namo bhagavate narasiṁhāya
namastejas tejase āvirāvirbhava
vajranakha vajradaṁṣṭra karmāśayān
randhaya randhaya tamo grasa grasa om svāhā
Mantra for Fearlessness, Courage
ॐ नमो भगवते नरसिंहाय अभयम् अभयम् आत्मनि भूयिष्ठा ॐ क्ष्रौं
om namo bhagavate narasiṁhāya abhayam abhayam ātmani bhūyiṣṭhā om kṣrauṁ
---
śrīmadbhāgavata purāṇa
स विक्रमन्पुत्रवधेप्सुरोजसा निशम्य निर्ह्रादमपूर्वमद्भुतम्
अन्तःसभायां न ददर्श तत्पदं वितत्रसुर्येन सुरारियूथपाः॥ ७-८-१७
sa vikramanputravadhepsurojasā niśamya nirhrādamapūrvamadbhutam
antaḥsabhāyāṁ na dadarśa tatpadaṁ vitatrasuryena surāriyūthapāḥ|| 7-8-17
स सत्त्वमेनं परितो विपश्यन्स्तम्भस्य मध्यादनुनिर्जिहानम्।
नायं मृगो नापि नरो विचित्रमहो किमेतन्नृमृगेन्द्ररूपम्॥ ७-८-१९
sa sattvamenaṁ parito vipaśyanstambhasya madhyādanunirjihānam|
nāyaṁ mṛgo nāpi naro vicitramaho kimetannṛmṛgendrarūpam|| 7-8-19
मीमांसमानस्य समुत्थितोऽग्रतो नृसिंहरूपस्तदलं भयानकम्।
प्रतप्तचामीकरचण्डलोचनं स्फुरत्सटाकेशरजृम्भिताननम्॥ ७-८-२०
mīmāṁsamānasya samutthito'grato nṛsiṁharūpastadalaṁ bhayānakam|
prataptacāmīkaracaṇḍalocanaṁ sphuratsaṭākeśarajṛmbhitānanam|| 7-8-20
करालदंष्ट्रं करवालचञ्चल क्षुरान्तजिह्वं भ्रुकुटीमुखोल्बणम्।
स्तब्धोर्ध्वकर्णं गिरिकन्दराद्भुत व्यात्तास्यनासं हनुभेदभीषणम्॥ ७-८-२१
karāladaṁṣṭraṁ karavālacañcala kṣurāntajihvaṁ bhrukuṭīmukholbaṇam|
stabdhordhvakarṇaṁ girikandarādbhuta vyāttāsyanāsaṁ hanubhedabhīṣaṇam|| 7-8-21
दिविस्पृशत्कायमदीर्घपीवर ग्रीवोरुवक्षःस्थलमल्पमध्यमम्।
चन्द्रांशुगौरैश्छुरितं तनूरुहैर्विष्वग्भुजानीकशतं नखायुधम्॥ ७-८-२२
divispṛśatkāyamadīrghapīvara grīvoruvakṣaḥsthalamalpamadhyamam|
candrāṁśugauraiśchuritaṁ tanūruhairviṣvagbhujānīkaśataṁ nakhāyudham|| 7-8-22