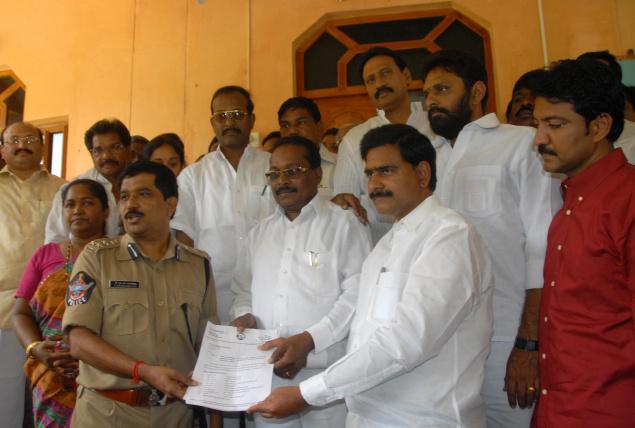 VIJAYAWADA: The Andhra Pradesh DGP on Wednesday ordered a probe against the Vijayawada police commissioner and sent him on leave without posting, following allegations about the 1992 batch IPS officer harassing women and sending suggestive texts seeking sexual favours. The action came after a TV channel telecast the cop's purported conversations and SMSes.In his 18-year career, P S R Anjaneyulu, a close confidant of DGP Aravinda Rao, has been embroiled in several controversies.
This time around, he sent a slew of SMSes to a Vijayawada doctor, demanding sex. Initially, he sought the doctor's medical advice, but then started harassing her over phone and told her that he "liked her". This was followed by an SMS proposing "a long term relationship".During one such conversation, the officer, a father of three, suggested, "Next time you should wear a sky blue sari and let your hair loose. I like you that way." Most of his phone conversations and SMSes were between September and October last year. However, she spoke out after she couldn't put up with the harassment any more. Anjaneyulu remained defiant. He said TDP leader Vallabhaneni Vamsi had set up the doctor to defame him. "Yes, the SMSes were sent by me. I have given them knowing well that the woman was Vamsi's relative and she was acting at his behest," he said. He added he only wanted to check to "what extent" Vamsi would go. Sources said the Vijayawada top cop had harassed several other women and girls, asking them for sexual favours, when they approached him with their problems. According to the police commissioner's call details, he called several women from his official number. "I am open in all issues. You too should be open in talking to me about any thing, including sex," one of his SMSs read. A lecturer in a Vijayawada college had to shift to Bangalore to flee his sexual advances, sources said.
A widow, too, was "trapped" by CP when she went to him with a complaint against her in-laws. A resident of Gannavaram in Krishna district, she was allegedly lured by the CP when she sought his help in getting her share in the property of her in-laws. Women's groups and rights activists have demanded Anjaneyulu's suspension and a probe into his activities. "Anjaneyulu is a law unto himself. He is an extortionist in police uniform. He is an armed goon and the biggest threat to civil society," said Jaya Vindyala, an activist of the People's Union of Civil Liberties.
Jyotish Notes: Transit of Saturn over the Lagna (Virgo) have proved to be devastating for this officer of the Indian Police Service (IPS) which coupled with the transit of the nodes in debility in the 4th house (home) and tenth house (work) threaten to disrupt life and career.