सुभद्रा Subhadrā is one of the principal goddesses of Hinduism and has many incarnations and forms. Very little is spoken about her except that she is always remembered as the spouse of Arjuna, the mighty Pandava. She is seen as the favorite child of Maharaja Vasudeva and younger sister of the deities Kṛṣṇa and Balarama.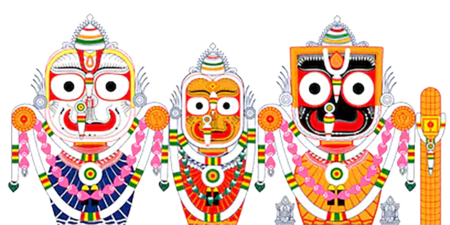 In the Jagannath temple these are the chief deities, the holy trinity on the ratna siṁhāsana (gem-studded śrī yantra based) throne-pedestal. However, in the temple they are referred to with their divine names – Jagannāth, Balabhadra, Subhadrā. If we look at the deities in the order of writing then the order is Balabhadra, Subhadrā, Jagannāth. She sits between her brothers being constantly protected by them. The bīja mantra for these deities is also in the order of their seating ह्रीं श्रीं क्लीं (hrīṁ-śrīṁ-klīṁ) respectively for Balabhadra, Subhadrā and Jagannāth.
Etymology: सुभद्रा (subhadrā) = सु (su) भद्रा (bhadrā) where
सु (su)  to go, move »
चर chara, movable – She is the mobility in the movable signs; She is the animation in the living world
Balabhadra is अचर achara or स्थिर sthira – He is the fixity of everything and also symbolises the non-living and the dead
Jagannāth is चराचर charāchara – both moving and unmoving hence possessing dual powers of mobility and fixity. Represented by dual signs (dvisvabhāva)

to possess supremacy » power of rajas guṇa
to beget, bring forth » power of procreation
opposed to दुस् dus connected with वसु » power to supress duṣthāna
prefix emphasizing good, excellent, right, virtuous, beautiful, easy, well, much, greatly, willingly, quickly
भद्रा bhadrā blessed , auspicious, fortunate, prosperous, happy Lit. RV.
good, gracious, friendly, kind
excellent, fair, beautiful, lovely, pleasant, dear
skilful in
great
a partic. kind of elephant
bhadra bullock; bhadrā a cow
a water wagtail
of the 2nd , 7th and 12th Tithi
of the 7th chara Karaṇa (bhadrā-karaṇa)
of a form of Durgā; Śakti; Dākshāyaṇī in Bhadrêśvara; a Vidyā-dharī
the celestial Ganges
of a lake Lit. Hcat.
prosperity, happiness, health, welfare, good fortune