Arvind Kejriwal took oath as the 7th Chief Minister of Delhi on 28 December, 2013 at 11:59'am in the open field 'Ram Lila maidan' in New Delhi. All astrologers in various forums were flabbergasted at the terrible muhurta chosen by the first AAP government with the Moon, Rāhu and Saturn in the 8th house indicating various troubles and turmoils. However some did suggest that Saturn in the 8th house does promise longevity! However, that's not true – Not in a muhurta chart – Saturn or any planet in the 8th house shows graha doṣa. Unless the Moon matches the promise of Saturn in 8th house to give longevity, it will not happen. Forty-nine days after he took charge of a minority Delhi government, Chief Minister Arvind Kejriwal and his entire cabinet resigned on Friday following a tumultuous day in the Assembly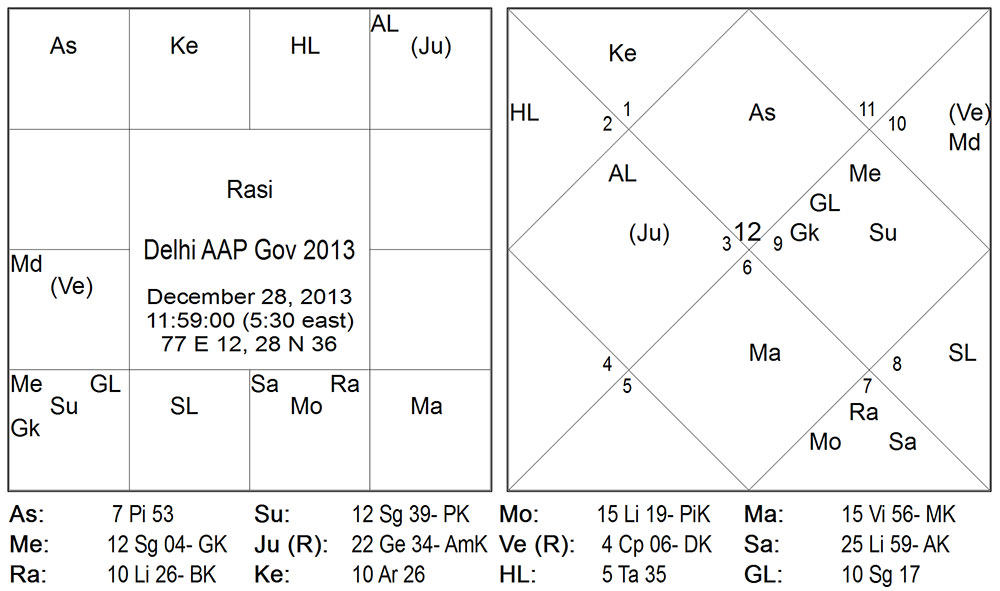 Chandrāṣṭama Doṣa
This is what we had maintained at all astrology forum that this is going to be a terrible curse-like experience for the people of Delhi. Moon in chandrāṣṭama doṣa with the affliction of Rāhu and Saturn is definitely a curse and this is going to be painful. The water promise was really not delivered as the poor people in the outlying areas actually ran out of water even in the winter season when water is supposed to be surplus. The longevity is seriously threatened and I gave a maximum life till October, 2014 for this government.
Exchange between Jupiter, the 10th lord showing the leader (Arvind Kejriwal) and the 4th lord Mercury indicates that instead of being seen as a 'wise, matured, honest' leader, his reputation is going to take a serious beating and he will be seen as an 'immature, impulsive, childish' person who will drag his people around till they get tired of his antics.
Maraṇa Kāraka Mars
To add to the woes, Mars is in maraṇa kāraka sthāna in the 7th house of marriage and relationships. It indicates marriage (7th house – bādhaka) with your enemy (Mars). The support of the Congress (I) to form the first AAP government was very conditional and required that governance should be strictly as per the red-letter of the law (typically Mars attitude).
Instead of understanding and trying to discuss (Mercury is 7th lord) with their partner, Arvind Kejriwal threw the glove (challenge – Mars) in the Legislative Assembly on 14 Feb, 2014. Mars is not a planet that will back out of a fight and Kejriwal lost power.
Magha Pūrṇimā witnessed high drama in the Delhi State Assembly right from morning after the Lt. Governor, Mr.Jung wrote to assembly Speaker M.S. Dhir, stating the constitutional position that the 'Jan Lokpal bill' should not be tabled as he has not approved it. He had sent a letter to the Law Ministry of the Central Government to seek clarifications on the constitutional modalities in introduction and passing of such bills. A reply was awaited. Instead of waiting for the law to take its turn, Arvind Kejriwal took the law into his own hands by introducing the bill illegally in the assembly. Naturally, both Congress and BJP leaders who are mainstream parties and are used to the democratic 'rule of law' waved Jung's letter and created a ruckus, demanding a discussion on it. However, a vote was forced by Kejriwal and the result saw 42 members vote against the introduction of the bill, while only 27 MLAs – all AAP members, including expelled member Vinod Kumar Binny – vote for it. Delhi assembly has a total strength of 70 and this meant a loss of majority by the government, and its fall from power. In simpler words – Kejriwal knew it was political suicide.
Magha Pūrṇimā
It is interesting to note that the day on which Kejriwal lost power was Magha Pūrṇimā! Full moon days are when the Moon is very strong. On Magha Pūrṇimā a person is freed from all kinds of sins and problems if he takes a bath in Ganges. Arvind Kejriwal was definitely 'freed' from all his sins and problems related to politics as resigning from power will prevent him from making any more of those ad-hoc laws called 'ordinance' which is a sign of dictatorship instead of democracy.
"For the Lokpal Bill I am willing to give up the CM's post a hundred times" – Arvind Kejriwal on his resignation. What he did not say is that this is going to cost the people of Delhi ₹53,000 Crores based on 2013 election costs.
What Next?
Of course Delhi will have fresh elections and almost everyone is assuming that this will coincide with the national elections.
People will again have to shell out money for the elections which will cost a whopping ₹530 Crore. There were 810 candidates running for office, including 224 independents and each candidate spends anywhere between ₹50-70 Lakhs bringing the estimated expenditure to ₹486 Crore. Add to this the government bill of about ₹44 Crore and we have a nice election bill of ₹530 Crore. What is likely to happen …

AAP will not return to power in Delhi, and will be the greatest loser in the next elections. Kejriwal's calculations are wrong
BJP is likely to come to power in Delhi with marginal gains which will make it a majority party with allies
Congress (I) will be the greatest gainer bringing its numbers in the assembly to double-digit.
President's Rule
After what we mentioned yesterday, those who can read between the lines, should have guessed that President's Rule was an inevitable conclusion that the Congress (I) at South Block would decide. That's exactly what has happened. This is the first time that the Capital will come under central rule since 1993 when the Delhi assembly was set up. The presidential proclamation, giving lieutenant governor Najeeb Jung the powers to run the Delhi government…expected today. More Info
If somehow the elections are deferred till after Saturn leaves Libra in the last quarter of 2014, the Congress would be real gainers. Let's see.