I am not any BJP member or supporter as in principle I am not inclined to politics or politicians. If I had my way, it would be Ram Rājya with just one divine incarnation ruling the land for life and there would be no need for any corruption of any sort. But that's just day-dreaming and will not happen for many centuries in India.
The Candidates
Coming back to elections in New Delhi, we have three Chief Minister hopefuls –

Kiran Bedi
Kejriwal
Ajay Maken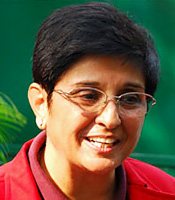 Kiran Bedi b. June 9, 1949 at 2:10 pm in Amritsar, India (74 E 51′, 31 N 37′). She is under Saturn daśā Venus antardaśā Saturn pratyantara in Utpanna Vimśottari daśā. This modified Vimśottari daśā is used as Moon is in the third house in her chart. Saturn is a yogakāraka planet generating a powerful Vimala viparīta yoga. In addition, it is the lord of 5th house (power) in dasāṁśa exalted in lagna. This exalted śani will bring her to power just as it has already propelled her as the face of the BJP to head the Delhi Elections.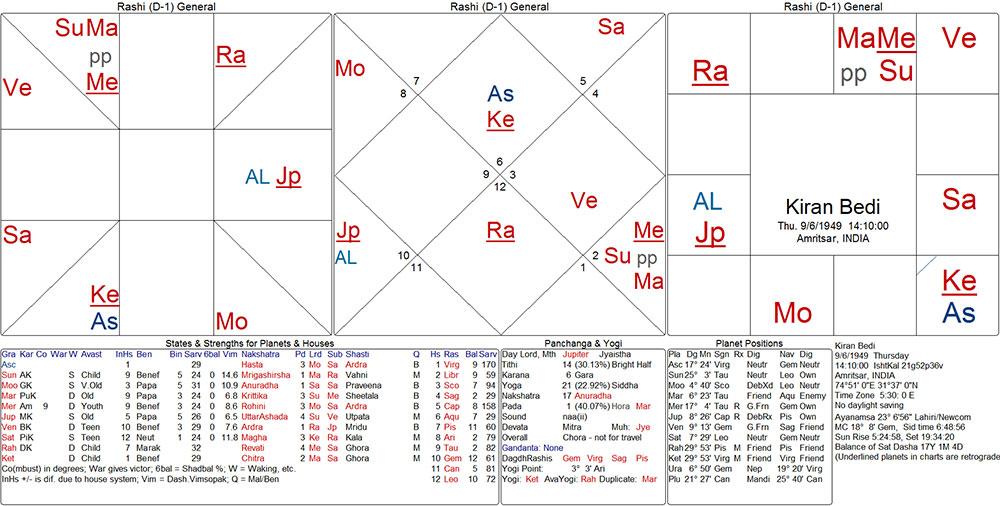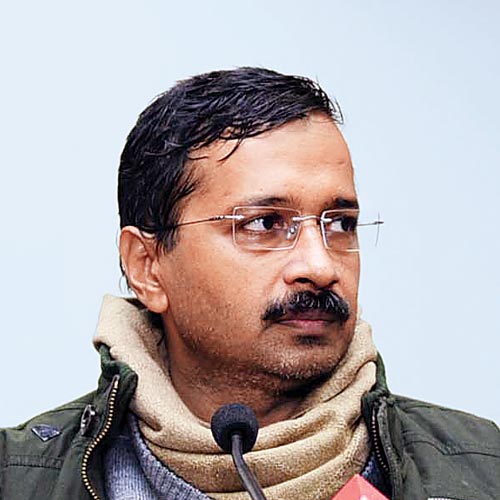 Arvind Kejriwal b. August 16, 1968 at 11:46 pm in Hissar, India (75 E 43′, 29 N 10′). He is under Jupiter daśā Venus antardaśā and the worst Ketu Pratyantara. Ketu is māraka for the chart and is debilitated in 5th house in navāṁśa afflicting Mercury which is the giver of power. Ketu shows mistakes and impulsive decisions that will prove to be very costly in the political arena.
As indicated in my previous article, his star will shine only till this Venus antardaśā i.e. 23 Feb 2015. Thereafter, Sun antardaśā will come and this saṅkrānti doṣa will catch him and force him to change his clothes – कपडा बदलना पडेगा.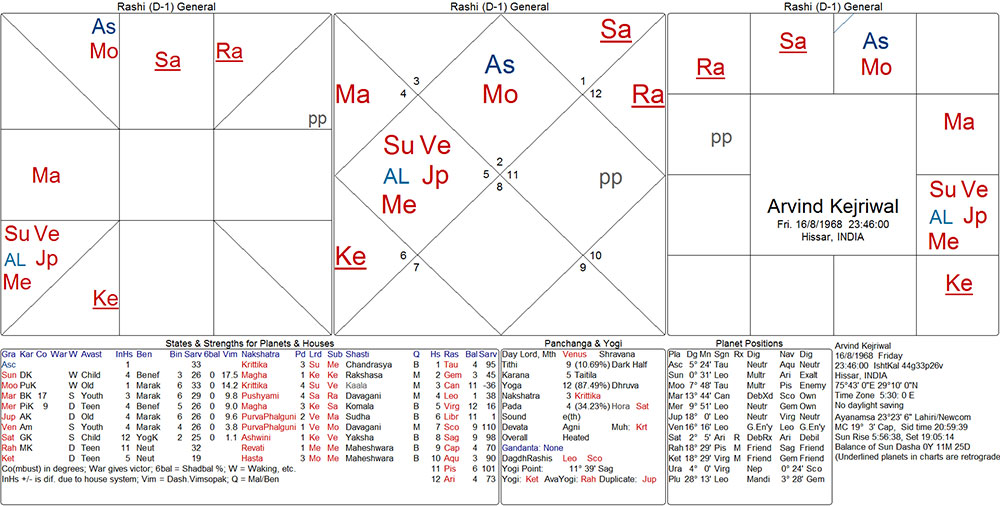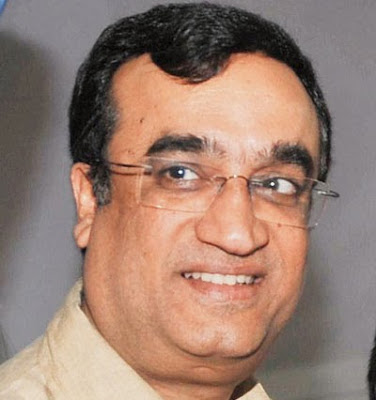 Ajay Maken b. Jan 12, 1964 at 10:30 am (speculative, see notes below) in New Delhi, India (77 E 12′, 28 N 36′). He is under Mars daśā Venus antara Jupiter pratyantara. Mars is a rājayoga giver in this chart as it is exalted malefic in the 12th house. His wife is very lucky for him as the upapada is in the house of luck (9th bhāva) and yogakāraka Venus is in lagna. There is no doubt that the Congress party has done well to choose him as their leader for Delhi. With a strong Saturn as lagneśa in the 12th house he has the capacity to rout his challengers but the time does not favour him very much. Given the storm that is propelling the BJP he will do well to improve the figures of the Congress from the dismal showing in the previous elections to a double digit figure … say 12 seats.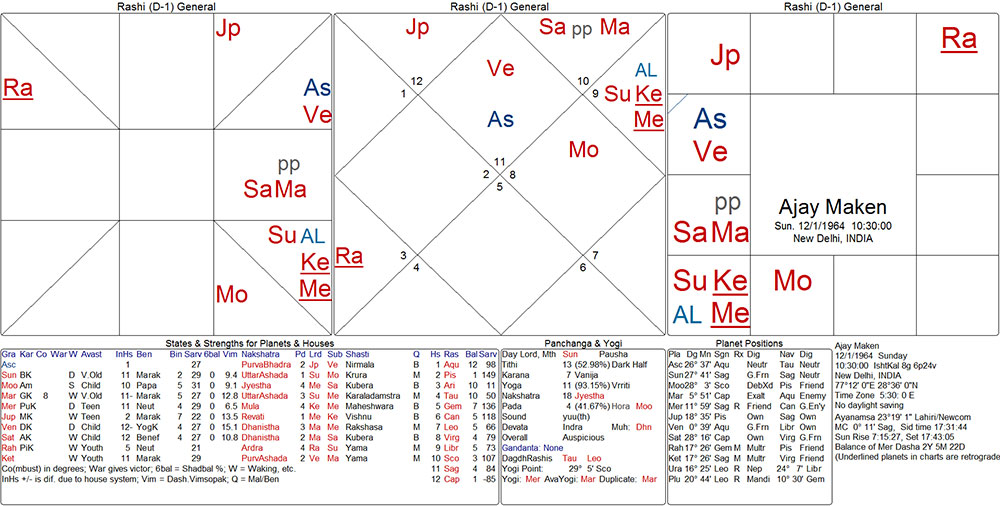 A praśna chart was used to determine approximate birth time. Praśna Data: Jan 23, 2015, Time: 12:10 pm, New Delhi, India.
Janma Tithi = (a) Sun 8°52' = 9 Navamī or (b) Sun + Prāṇa Tithi = 9 + 4 (caturthī) = 13 (trayodaśī) à Ajay Maken was born on Kṛṣṇa Trayodaśī (K13) … praśna seems to be working
Janma Rāśi : Praśna Navāṁśa Rāśi = Mīna, trines to Janma Rāśi Vṛścika … praśna is working
Janma Lagna Determination
Praśna navāṁśa lagna = Siṁha (Janma Lagna can be agni rāśi or kumbha); Praśna navāṁśa lagneśa Sun in Mīna (Janma Lagna can be Pisces).
Praśna Lagna = Meṣa (rātri bala rāśi) à birth is in daytime thereby eliminating Siṁha Lagna as that would be a night birth. Similarly Pisces lagna chart, which is all over the internet, is quite absurd as that would have given him a head full of hair and strong kapha prākṛti. Meṣa lagna would have made him travel all over the country for education and abroad for work. Of the two remaining options of Dhanus and Kumbha, we have preferred Kumbha lagna making him a very good man and an able fighter. He is married to Radhika Sehgal and has three children, Aarushi, Ahana and Aujaswi as a Leo saptāṁśa would indicate.
Numbers Nimitta (Omens)
The Office of the Chief Electoral Officer, Delhi, which is responsible for the conduct of the February 7 assembly polls in the national capital has rejected the nominations of 230 candidates and approved the nomination papers of 693 after scrutiny. See the number '9' [6+9+3 = 18, 1+8 =9] which belongs to Mars, the god of war who also rules the police and military.
After scrutiny, the highest number of valid nominations was 18 from the Burari Assembly seat and the lowest was four in the Ambedkar Nagar constituency. Mars is agin leading the numbers game as the number 18 indicates. [1+8=9]
Madness has Begun
A total of 121 first information reports have been lodged against various political parties in connection with the violation of the Model Code of Conduct in Delhi till now. According to the Office of the Chief Electoral Officer, Delhi, the highest is against AAP. The AAP party which has openly said that it does not follow rules and regulations – they are 'anarchists' – Kejriwal's words, takes the lead in disobedience of laws.
54 FIR's have been lodged against AAP → 5+4 =9 (Mars is negative)
24 against the BJP → 2+4 = 6 (Venus is negative)
26 against the Congress → 2+6 =8 (Saturn is negative)
10 against the BSP → 1+0 = 1 (Sun is negative)
The Results
Delhi Assembly Elections 70 Seats
2013 Hung Assembly
2015 Predictions
Party
Won
Party
Win A
Win B
Win C
Win D
Cong
8
Cong
8
8
12↑
17↑
BJP
31
BJP
44↑
35↑
35↑
35↑
AAP
28
AAP
16↓
25↓
21↓
16↓
Others
3
Others
2
2
2
2
My calculations show four scenario's. These are with four assumptions which we clarify below:
Win A
This situation will occur if Narendra Modi storm continues to blow and takes over the elections. He is the face of 'Future Hope for India' and people will not let go of this hope so easily. Given his work load as the Prime Minister and the fact that he is going to be in a few gatherings, this scenario is very unlikely.
Win B
This situation occurs if the people have not yet forgiven Manmohan Singh for sleeping over reforms and not retiring if his health was not good. But this scenario is unlikely as we Indians are very forgiving and forgetting by nature.
Win C
This is the most likely scenario as the Congress under Ajay Maken is bound to improve its showing while the AAP takes a little hit for its antics. Kiran Bedi will prove to be a very energetic fighter and she has the will to perform. She is a go-getter and people of Delhi need someone who will deliver then from (a) endless traffic jams (b) expensive parking (c) crime. Yes she is a police officer and she will deliver them. That's the picture. AAP will still get some votes as we in Delhi continue to get absurd electricity bills. Looks like some people in the electric supply department are playing lottery. I had to visit my heart doctor when slapped with an electric bill of ₹85,000. I will take up the matter after the elections and a new government is in place.
Win D
This will occur if during this Ketu pratyantara Arvind Kejriwal does some more of his funny tricks like sleeping on the road or tearing down electric wires. But this is unlikely as it looks like he has matured some.
ABP News-Nielsen
The Aam Aadmi Party (AAP) is likely to emerge as the single largest party in the coming Delhi elections with 35 seats, one short of majority, an opinion poll conducted by ABP News-Nielsen has predicted. The BJP is projected to get 29 seats while Congress is expected to get six seats in the 70-member House.
AAP chief Arvind Kejriwal seems to be the most preferred candidate for chief minister of Delhi with 48%, followed by Kiran Bedi of BJP with 42%. AAP is likely to emerge as the largest party with 37% vote share, followed by BJP with 33% and Congress with 18%. As per the survey, Kejriwal is seen as more capable than Bedi in solving most problems faced by Delhiites. However, for "maintaining law and order and women's safety", respondents preferred Bedi over Kejriwal.
The survey found that AAP maintained its strong hold over economically weaker sections and Muslims. The party also had substantial support among voters living in slums with nearly every second voter in slums intending to vote for the party. The survey said AAP had huge support among Muslim with nearly every two in three Muslim voters intending to vote for the party in the coming elections.
The survey found that Bedi's anointment as BJP's CM candidate was not helping the saffron party pull in additional voters.
The survey said voters were firmly aligned to their parties with very few intending to switch sides. However, there could be some fence-sitters currently saying they "may not vote for BJP" but could change their mind later, it added.
Kejriwal marginally pipped Bedi when it came to who did more "tamasha" than work for development. The opinion poll was conducted with 6,396 respondents in 35 constituencies by ABP News-Nielsen from January 25 to January 31.
TNS for the Economic Times
AAP, led by tax-inspector-turned-activist-turned-politician Arvind Kejriwal, could walk away with 36 to 40 seats in the 70-member legislative assembly, according to the latest findings from polling firm TNS for the Economic Times newspaper.
Let everyone lose and we shall be the happiest. No need to feed their ego, feed their spiritual growth
We admit that the prediction was completely wrong and the BJP has been defeated due to taking Kiran Bedi as their Chief Minister candidate at the last minute. One lesson we learn from this is not to take a chart at the face value without verifying the divisions. It is evident that Kiran Bedi's dasamsa is wrong and the exalted Saturn is not her rajayoga-karaka but must be her enemy planet. D10 lagna could be either Virgo or Scorpio. Anyway, it is time she retired and allowed the regular BJP people to get back to their work. It was a 44 win situation until she entered the fray …now looks like they may just about get a double digit figure.